LATEST NOTABLE CASE HISTORIES: PEN NEBO SNOWDONIA NATIONAL PARK >>
BONTDDU SNOWDONIA NATIONAL PARK
CONSTRUCTION TIMELINE
OVERVIEW
PEN NEBO
BONTDDU
SNOWDONIA NATIONAL PARK
Specialist Contracter
James Redman and Son a local specialist building contractors assisted in the on site assembly and completed the project after the frame was in place


Client: Private client from Oxford

ARCHITECT: Dilwyn Roberts Limited


Date of Construction: July, 2013
Time to build the frame: 9 days on site
Principal works:
- Oak main frame and link frame for a major extension and renovation of Pen Nebo.Brief:
- To translate the Architects drawings into working carpentry drawings which would accurately detail the joint designs. The trickiest part of the design translation was the link frame.
- To bring the main frame round to face the best views up the valley - the Architects designed the link with a bend half way down its length, see picture no 7 (link frame laid out in yard)
This created a few challenges in joint design and roof geometry.

Main frame
The main frame was constructed first so that the site between the main frame and the existing property could be surveyed and carefully measured.
Greenwood Oak manufacture all the framing at our yard in Cheshire and deliver it to site for assembly.
PLANNING DRAWINGS
-
left:
Architects elevation
right:
Greenwood Oak's drawing of detailed carpentry design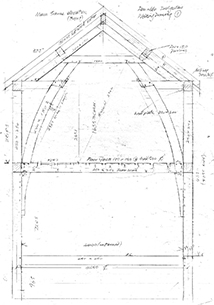 Greenwood Oak
Architectural Carpentry
TELEPHONE:
01270 528586

FAX:
01270 528586

MOBILE:
07976 716812

EMAIL:
©Greenwood Oak 2014 | All Rights Reserved